Barndominiums, retreats and custom homes
Definition of Barndominiums (Wikipedia) – The barndominiums, a combination of barn and condominium, is a new type of building growing in popularity, especially in Texas ranches and equestrian communities. It is often used interchangeably with terms like "barn home" and "barn with living quarters.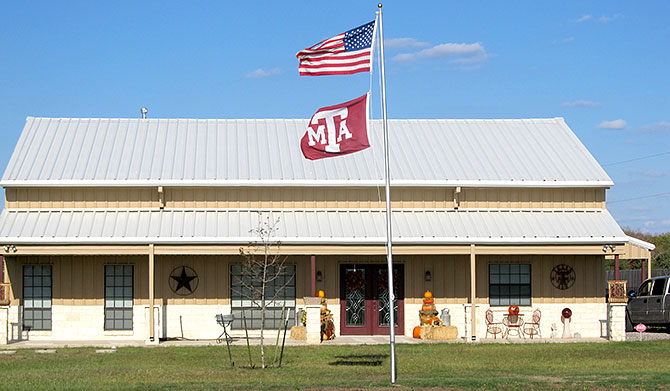 Barndominiums are usually metal buildings with a steel frame. They were originally designed as a storage building or barn structure. Today's barndominiums are completely different and RBS custom builds them to meet your exact lifestyle and needs. There is a difference – see
truly custom barndominiums.
Barndominiums are typically built on an existing property or multi-acre homesite. The structure often acts as a dual purpose living and shop or workspace areas.
These homes offer features that are not usually found in typical homes including oversized roll-up doors and single enclosed areas large enough to hold things like boats and recreational vehicles.
"You where the only people that we talked with that where willing to take the project from start to finish. We have been nothing but satisfied. We where impressed with your professionalism"
Mark & WH Spillers

Quick Note: We built a living space for WH (Mark's father) with an attached shop. They both utilize the shop space for storage and shared activities. RBS dealt with both gentlemen during the design & construction phases.
You can view one of our featured barndominiums and many more in the barndominium and retreats gallery.
Let's get started – call 979.596.1451 or just fill out the Quick RFQ form on the right hand side of this page.