Bryan-College Station's general contractor – RBS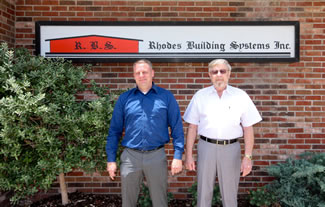 Rhodes Building Systems, Inc. (RBS) is a design-build general contractor that specializes in metal buildings. We are the largest metal buildings company in Central Texas. We mostly handle commercial and non-commercial construction projects located in Bryan-College Station, Brenham and the surrounding areas of Central Texas.
See Markets Served »
RBS provides single-source responsibility from design-build to prefabricated metal buildings. Our integrated construction management services will take your project from the initial design through completion.
Whether it is a new construction or an upgrade, our goal is to add value to your project. RBS' approach to construction management is built on a foundation of quality, safety, environmental preservation and attention to details so you can have total peace of mind.
Since 1974, we have built strong, long-term relationships with people and not just companies. Today, we are proud to say that 90% of our sales come directly from customer referrals and repeat business.
We recognize that our success depends greatly on our customers' trust and confidence, which we believe must be earned through hard work, dedication and exceptional service.
History
Founded in 1971 as a metal building dealer specializing in dried-in metal buildings
1974 – incorporated in Texas as Rhodes Building Systems Inc.
Early 1980's – expanded service offerings to include design-build general contracting
Mid 1980's – developed and launched proprietary estimating software capable of producing complete and accurate quotes within hours. This software has been refined over the years to handle even the most complex building projects and we continue to use it to this day
Late 1980's – began manufacturing and fabricating metal buildings primarily for our own construction company
Mid 1990's – started servicing a niche market — water and sewer treatment plants. These metal buildings are too small for large manufacturers and too engineering intensive for small manufacturers.
Early 2000's – expanded our agricultural line to include dried-in residential barns (Barndominiums)
Present – RBS continues to grow, seek new innovative solutions and specialize in smaller structural steel buildings
Mission
Our mission is simple and has remained the same since day one — be dedicated to doing our best in making each new customer into a lifetime client by adding value to their construction projects and continue to grow as a leading design-build contractor/manufacturer of metal buildings in Central Texas through better technology, innovative solutions and superior customer service with integrity.
Core values
Treat our customers, employees and suppliers with respect at all times
Strive for excellence and exceeding customer expectations
Be responsive to clients' changing needs and be transparent, professional and courteous
Always behave professionally and ethically with everybody
Value the client's trust and be accountable for our commitments
Be active members of our community and do business with humanity and compassion
At RBS, we understand that there are hundreds of construction companies out there. Why should you select us? Read Why choose RBS…
Let's get started – call 979.596.1451 or just fill out the Quick RFQ form on the right hand side of this page.