General contractor RBS works with you
Over the past 40 years, we have learned to streamline the design-build construction process to make it as smooth and seamless as possible for you.
If you have some construction experience under your belt, you are already familiar with the challenges. However, most of our clients tend to be busy entrepreneurs and corporate executives who have much more profitable use of their time than to manage their own construction projects.
When you hire us as your design-build construction contractor, we take on the full responsibility to deliver a completed building ready for occupancy.
The design-build workflow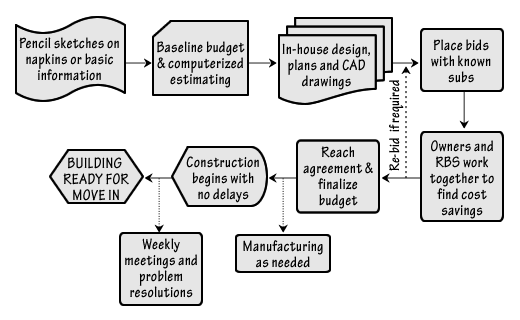 The RBS difference in general contracting
RBS is a professional design-build general contractor from Bryan-College Station area offers a full range of design-build commercial construction services and manufacturing of prefabricated metal buildings.
Every project is negotiated and you have the flexibility to select the services you need and how far you want RBS to take your construction project.
You will receive guidance and unbiased professional advice at each step of the way through your construction project.
You will be kept fully informed at every step. We insist on maintaining open communication at all times and hold weekly meetings to make sure your project is on track.
We will go the extra mile when necessary to make sure that your construction project is completed on time and on budget.
Your job will be backed by our almost four decades of proven experience and expertise.
Every task will be performed by a dedicated team that believes in a total commitment to quality and taking on an ownership responsibility.
Your metal building will comply with all existing building codes and we will conduct a final walk-thru with you before move-in.
Our crew will leave you with a building that is clean and safe.
Let's get started – call 979.596.1451 or just fill out the Quick RFQ form on the right hand side of this page.